From one of my Teachers,  Dr. John R. Christopher
Dr. John R. Christopher's Herbal Home Health Care ©1976  Christopher Publications
"…If one has been living on the Mucusless Diet and is now expecting a new healthy child, remember, faith without works is not the proper way to go. To carry on the good works of proper diet and preparation for the new mother-­to-­be, one should include additional aids to purify her body, in order to pass on good health to the expected child.
THE MOTHER-­TO-­BE
One of the herbal foods is red raspberry leaf tea. This is made by using a heaping teaspoon of red raspberry leaves to each cup of hot steam-­distilled water, or one ounce of the herbs (two heaping tablespoons, approximately) to each pint of distilled water.Never let the tea boil, but pour the boiling water over the herbs, cover and then is best to drink three or more cups a day of this tea during the entire pregnancy. It is a pleasant-­tasting tea and is also anti-­nausea…
…Raspberry provides natural amounts of the follow: Particularly high in:
Alpha-­Carotene
Manganese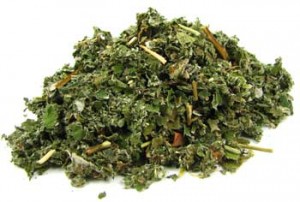 Alpha-­Tocopherol
Niacin
Ascorbic Acid
Pectin
Boron
Phosphorus
Calcium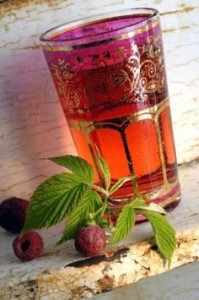 Potassium
Fiber
Selenium
Iron
Silicon
Magnesium
Thiamin
Malic Acid
Zinc
Therapeutic action:
A
stringent, tonic, stimulant, alterative, stomachic, anti-­emet-­ic, parturient, hemostatic, cathartic, antiseptic, anti-­abortive, anti-gonorrheal, anti-leucorrhea, anti-malarial.  Fruit: Mildly laxative, esculent, antacid, parturient, refrigerant.
…will quiet inappropriate premature pains and will produce a safe, speedy and easy delivery.
Red raspberry is a great agent for cleansing a canker condition of the mucous membranes in the alimentary tract, leaving the tissue toned. In pregnancy the infusion, when taken regularly, will quiet inappropriate premature pains and will produce a safe, speedy and easy delivery. Raspberry leaves stimulate, tone and regulate (both the leaves and fruit are high in citrate of iron which is the active alternative, blood-­making, astringent and contractive agent for the reproductive area) before and during childbearing, assisting contractions and checking hemorrhage during labor, relieving after-­pains, then strengthening, cleansing and enriching the milk of the mother in the post-­delivery period. The tea is a valuable and effective agent for female menstrual problems, decreasing the menstrual flow without stopping it abruptly.  Raspberry leaves are soothing and toning to the stomach and bowels, with healing action to sore mouths, sore throats, nausea, aphtha, stomatitis, diabetes, diarrhea and dysentery. They are especially valuable in stomach and bowel complaints of children.
Sounds good to me! I've drank Red Raspberry tea on and off over the years, and I almost always can feel it in my energy level. It most certainly helps with my slight anemia.   I feel re-inspired by this post to add this herbal tea back into my daily nourishment!
Enjoy, In-Joy!
Lots of Love,
Ali