Praise



check us out on yelp.com and if inspired, leave a review!
The Rolf Method of Structural Integration from Ali Grabel on Vimeo.
"Hi Ali. I'm quite happy with how I continue to feel from the sessions! Have to buy a new car now since I can no longer sit comfortably in it (not enough headroom).

We are already planning to come over for a few weeks once it tu

rns colder to finish the sessions with you rather than someone else-likely mid November or January.
It truly feels like I have a chance to get my life back if I follow the recipe and implement the other changes needed-words can't really express my appreciation!
Take care and see you soon!" 
Dale 
"I have been receiving therapeutic, massage regularly from Ali G for over 8 years. What amazes me is how thoughtful and intuitive she is to cater each and every session to my individual needs in that specific moment. She is truly an extraordinarily gifted, loving, and giving healer. I always feel taller, fuller, and more alive in my body after a session. I could not give a higher recommendation for EVERYONE to receive a session from Ali G."
Oren Jaffe
"Thank you Ali, and your Structural Integration Therapy (Rolfing). It has positively changed my life in many ways.
I am a 71 year old woman who is of the "tough old bird" generation and believed my physical pain and lack of a younger body capabilities were just part of the aging process I had to live with. I had increasing pain when walking or standing, I thought I needed a cane. Then my arm lost range of motion, strength, and gained numbness. So cane was out. But it was the constant pain that finally became more then I could handle.
My daughter had been trying to convince me to do the Rolf Method therapy for years. I avoided it because of the pain I heard it induced. I don't like pain. My daughter finally convinced me that it couldn't be worse than what I was already experiencing. So she gave me your sessions as a gift.
Is Rolfing painful? Eighty percent of the sessions it is calming…but I won't lie, there are moments of pain. They seem to be merely seconds then release and a sense of comfort is experienced afterward. The bonus is that after each session my movement increased and my daily pain has grown less to the point of only occasional discomfort.
How have your sessions helped me? It is the little things that have improved the quality of my life. Things like lying in bed without my arm going numb or being able to reach things on the top cupboard self. Things like being able to stand for 2 hours to prepare my favorite big pot meals, and being able to walk through the grocery store without leaning over the cart for support, walking standing up straight instead of hunched over like an old crone, being able to lift my leg to put my pants on, using both legs to walk up stairs, or having my grand-daughter say, "look grandma is walking!" (versus my old woman shuffle), looking in the mirror and not seeing my face etched in pain, and a sense of body being alive for the first time since I can't even remember how long. I know they are not so little huh? Do I feel 30 again? No…but I no longer feel like a 71 year-old "tough old bird" who needs to just endure.
I thank you for this most precious of gifts…my body back. It is the most wonderful gift my daughter has ever given me. I only wish I had listened to her years ago…but maybe I was waiting for you. Thank you again." 
Pamela
"Hello Dearest Ali!  Thank you so incredibly much again, for such a delicious healthy homemade meal.  Your act is so very kind!  I am not a vegan, but I am now VERY intrigued in learning more recipes.  I make some pretty yummy veggie dishes, and meat dishes.  But this was so different, creative and just really remarkable.  I cannot believe what is in the Pie, and what isn't…like Sugar.  If you find some time, can you please send me an email with the recipes for the Pie and the Kitichari ( I could eat that every day)  YUMMO!  Also, If you have a place on line you go for recipes like these or books, etc.  Again, thank you so very much,  Much love" 

Amanda
"I feel blessed to have found a new friend!   I'd seen about 40 healers from many different backgrounds for my chronic pain before resorting to surgery. I feel I'm qualified to say Ali G's intuition, strength and straightforwardness make her a great Rolfer. Ali G helped me through a 3-series in preparation for surgery while hubby and I celebrated our 1st anniversary on Kaua'i. I went through the entire 10-series 2 years before with an Advanced Rolfer, so that helped a lot with the work she did. Compassionate and grounded, she is a healer who has the ability to help you transcend negative energy. She even gathered fresh comfry and concocted a brew for me to drink for a few days to help restore lung function. Can't wait to go back!" 

Christina


"After the first Rolfing session, I knew that this was big! The changes I have seen through the series are amazing and that only begins to express how wonderful working with Ali has been. If you are looking for results and change – if you are ready to let go of pain, then go to see Ali, the whole journey is incredible!" 

Doreen
"Ali's massage is always grounding before a performance. She has a way of relaxing and energizing me at the same time." –

Matt Butler
"I know Rolfing conjures up all kinds of things for people. Personally I had a bad first experience many years ago- and never thought I would approach it again. But after working with Ali for a good while with massage- when she broached the idea of Rolfing I KNEW I should follow…and am very glad I did.  Rolfing is an amazing modality- at the top with craniosacral. And Ali is beyond amazing – the most intuitive bodyworker I have worked with-which is saying a great deal.  Long story short- GO SEE ALI! She is a truly amazing woman and amazing bodyworker. Your body, your mynd, your spirit…will all thank you."

Ruhl
The Rolf Method of Structural Intergation "10 series" Client Testimonial from Ali Grabel on Vimeo.
 " I met Ali G and had a series of incredible massages.  I suffered from fibromaligia for 17 years and nothing I had tried really provided lasting relief from the constant pain. So when Ali mentioned seeing wonderful results using The Rolf Method to treat fibromaligia I was intrigued.  The Rolfing experience was AMAZING, and Ali G is such a gifted body worker able to comfortably work with me without it being too painful.  While there were moments that were work on my part it was so beneficial that after the first session I knew it was going to make a difference in how I felt. After the ten sessions the change in how I felt was so marked that I was able to start exercising again! Six months later I am still seeing major improvements in the level of relief from the chronic pain allowing me to work (as a professional photographer) and enjoy life with more ease.m  Ali is such a warm loving healer who has a passion for the Rolf work and I can't recommend her enough! "

Sara Wall
I met Ali in the last month and have been to see her twice already for massage. Immediately she set me at ease with her warmth and empathetic nature. I am currently undergoing treatment for cancer and she took it upon herself to research deeper into what the treatment involved and how she could best help me through this experience. She never gave pity, just positivity and good, practical advice on spiritual well being and nutrition. This was all over and above the reason I was there which was simply to have a relaxing massage and de-stress. And is the reason I went back for more the week after! The advice is given in a very laid back, non intrusive way which is guided by Ali's natural intuition of her clients. I will return again and again to Ali even in full health as she is a queen masseuse to boot! I truly recommend this gifted lady. Zoe L.
Working with Ali was an amazing experience. I had tried physical therapy for pain in my upper back  but it just wasn't working out, so I decided to try out Rolfing as an alternative. It turned out to be really beneficial to me and not only helped me with my back problems but with postural problems that I hadn't been aware of before. I'm really glad I decided to go through the 10 sessions with Ali, I highly recommend it." Amelia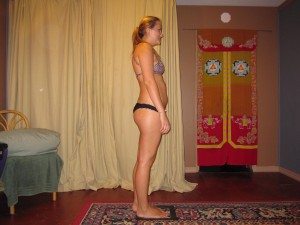 Amelia Before 10 Sessions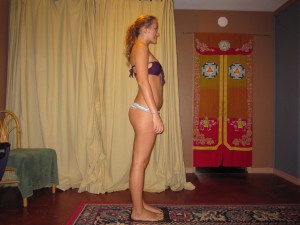 Amelia After 10 session
Thank you for the massage of yesterday. It was nice to feel that are trying to bond with your guests before you start working on them. It felt good.  Mahalo a aloha"  

Hans
I have been Enjoying my Rolfing sessions with Ali. She has a sweet energy which helps make you comfortable. Since my sessions I feel I  have been able to use my full lungs when I breath ( Which feels amazing 🙂 !  I look forward to continuing to see what other changes will come! I am thankful she made it to the SB area for me to find!

. 

Anne Marie P. 
"Ali G's sessions have changed my life a lot for the better, before I met her and started the 10 series, my back hurt, I was sleeping very lightly and was very stressed in general. After the process was complete I was sleeping deeper healthier sleeps, and my stress had gone from a 10 to about a 2 or 3 (amazing for me). Besides the mental change I was very pleased with the physical change as well, including better posture and no more back pains! I would definitely recommend her a million times, I am very thankful for what Ali did for me."

Eden
Marissa, Ballet Dancer ~ The Rolf Method of Structural Integration Testimonial
Life changing!
ROLFING:
Alison has a true talent for healing. Old injuries had come back to haunt me with a vengeance; I was crooked and in pain. Acupuncture & chiropractic just weren't doing the trick. I needed something with more 'oomph' and so I did the standard 10-session Rolf program with Alison. Although there were painful moments, I really enjoyed the sessions, and I could feel it working; I could tell this was what my body needed to become realigned. I am now able to do all my regular physical activities once again. What a blessing.
MASSAGE:
She is also an AMAZING masseuse. I threw my shoulder out of place again and went to see her. This time she gave me a massage with some Rolfing techniques integrated. It totally fixed me. She explained that because we had done the core work, it was much easier to get the muscles back in order this time. And I can't even find the words to describe how good the massage felt. Just magical.
TECHNIQUE:
First, of all, the ambiance is comfortable and relaxing. Music, candles, scents. Ali integrates breathing techniques, visualizations, delicious essential oils and thoughtfulness into her practice. She is 100% present at all times, and her intuition guides her hands to all the trouble spots. She rounds out her practice with holistic health advice – herbs, supplements, diet, stretches, lifestyle. I gain new wisdom and helpful reminders with each visit.
Thank you, thank you, thank you!!! I don't know what I would have done without you!

 

Kristen T. 
"When I first started seeing Ali G I had chronic pain and misalignment in my shoulders. Working with her, receiving massage has helped me not only to open up in that area of my body, but also to let go and open up in my life in general".

D.Fine
"Thanks again for the work you just completed with me.  As you know, I have worked with many therapists over the past 18 years in rehabilitating arm, shoulder, collarbone and rotator cuff that were severely injured in ski accident.  Your efforts have resulted in greatly reduced pain and healing of both body and mind in helping me let go of the pain.  I am grateful for your work and wish you the best as you truly are a gifted healer!"  Karl D. 
"Hi Ali, It's Blair and I'm the one at Emalani Court in Princeville with the bad back.  I'm still in the danger zone where my back could pop out, but I'm slowly recovering.  I wanted to thank you for your help.  I know a standard massage would have probably made it worse.  What you did seemed to help me get started on recovery.  Thanks again for your help."

Blair 
Ali Grabel is a gifted massage therapist and rolfer. I leave her office freed up from pain and with a deep feeling of well being. Ali's skill draws from extensive and ongoing training, vast knowledge of how the body works and powerful intuition. She asks questions, listens well, and shares what she knows so I can participate in the healing. I completed the 10 sessions of structural integration and I feel so much better. I really enjoyed my sessions and am grateful to Ali for her great skill and generous spirit.  She is one of the best out there! Lisa M.

"Everyone should experience a massage from Ali! She is simply The Best."

Aimee 
"1st Session with Ali was about 6 months ago. Suffered a lot of injuries from playing sports and martial arts. Woke up with pain everyday and it only got worse as I got older. After the 1st session with Ali I started to feel the changes and knew her work was special. 10 sessions later I feel brand new! Ali is a incredible teacher and healer. Thank you Ali for my new body"

Lester   
The Rolf Method of Structural Intergation "10 series" Client Testimonial from l on Vimeo.
After my bike injury and a major break-up, I was not only in a world of hurt both physically and emotionally, but felt "stuck" in my life and not sure what I really wanted. I wanted to have healing that not only helped right now but something that could help me move forward in the future and bring stability back into my life. After meeting with Ali before our sessions, she really listened to what I needed and wanted, and after the first rolfing session I was sure that I wanted to continue the 10 series. I have felt my heart open, more sense of groundedness, and an overall sense of openness and length in my body and life. I am so happy that I did the series with Ali and highly recommend her to anybody who is looking to improve their life.

 

Kalyn N.
"I suffered years of wear and tear and accidents along with having fibromyalgia and I saw some relief after just 2 sessions with Ali. Mahalo."

Claudia
"For years I suffered from back and neck pains. Sitting at the computer or carrying my heavy photo equipment didn't help my condition and a colleague of mine convinced me that Rolfing with Ali was the fastest and most effective way to cure my pains. By realigning my spine over the 10 sessions  and softening my tissue enough to allow for my breast bones which had painfully stuck out to fall back into place, Ali very patiently assured me that the pain would go away.   After several sessions, I started to walk taller and straighter and the nagging pain is finally gone. Ali has come through with her promise. I will always be thankful to her and my colleague who recommended her."

Catherine Steinmann
"I am very grateful for meeting Ali because without her,  my 12 year knee injury would not have been healed.   My right knee has had 3 surgeries and now contains very few ligaments, tendons and cartilage.   It's no joke!  Ali healed my pain through a series of ten Rolfing sessions which included an education of my anatomy and which muscles were pulling on my knee joint (my knee pain actually originated in my hip), a maintenance stretching regime, and important advice about diet.  The reason, I believe, Ali's services worked for me is because she has a magical healing touch and an internal sense of where and how deep to go (like a 6th sense- or radar)."  Chris Schumacher
Ali is a gifted and dedicated healer. She has a passion for her work, which really is her way of life. I did the 10-series Rolf method with her as I was recovering from a frozen shoulder and I know that the sessions with her helped that process tremendously. The sessions also helped me with other chronic body issues I had been dealing with for years. She helped me to heighten my awareness of proper body alignment and guide me further down the path of continuing my healing on my own. Jill. C

"I was fortunate enough to have two Rolfing sessions with Ali when I was in Kauai.  She is amazing and brings great energy and knowledge to her practice.  I highly recommend scheduling time with Ali if you are in need of aligning your body, mind and spirit.  Thanks again Ali!" 

BK
"The balance, flexibility, and comfort of exercising my recently Rolfed body is wonderful.  Thank you Ali. " Craig W.

"My partner and I met Ali very serendipitously and hit it off from the start.  I scheduled a body work session with her before we left Kauai.  My only regret is that I don't have Ali available to me here on the mainland.  I have never had body work that was so thorough, long lasting and beneficial."

Keith
"Hi Ali, I just wanted to drop a quick note to tell you how much we enjoyed the massages last week in Kauai.  The 90 minutes of bliss you delivered was a highlight for all of us on the trip.  We look forward to seeing you again in upcoming years.  Best of luck in your journey!"

Matt Davis
"Have to say that Ali provided one of the most relaxing massages and environments that I've experienced in a long time! If you are considering getting a massage in Kauai then you should definitely visit Ali.  There was no rush, a great massage, a peaceful setting and she was a delight. Thanks again for your hospitality!" Justin"Many thanks for the delightful massage!"

Mana
"While visiting here I received a glorious massage from Ali.  I've been working with the same MT on the mainland for 15 years and Ali is the first one to ever approach the quality of work I've become accustomed to.  I highly recommend Ali to anyone engaged in any kind of body work. Ali is truly gifted."

Matthew Peake