Which conditions can be addressed?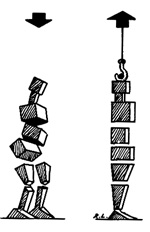 Clients often report positive changes, stating: less stress, greater self-confidence and improved ability to handle life's changes.
 
Rolfing enhances:
Rofing reduces:

– Posture
– Range of motion
– Coordination/balance
– Athletic performance
– Vitality
– Breathing
– Voice volume
– Self-esteem

– Stress
– Chronic pain
– Rehabilitation time
– Injury rates
– Limitations in movement
– Menstrual cramps
– Osteoarthritis
– Scar tissue
The following conditions respond well to Rolfing: neck and shoulder pain, back pain, whiplash, sciatica, headaches/migraine due to muscle imbalances, tendinitis, tennis elbow, Temporomandibular Joint Disorder (TMD), Carpal Tunnel Syndrome.