This is a recipe for a liver lover drink from Dr. Schulze that you can easily incorporate into your daily health regime or make after a decedent night on the town.  I like to pour mine into a wine glass and enjoy in the AM sun. 
All Organic Ingredients
8oz fresh squeezed juice of  1 lime and 1 lemon  and enough orange to make 8oz

8oz  purified water

garlic cloves (add 1 each day. so 1 clove day 1, 2 cloves day 2, etc, until you get to 5 cloves).

1 inch piece of fresh ginger (unpeeled)

organic extra virgin olive oil (1 tbsp day 1, 2 day 2, etc until you get to 5 tbsps)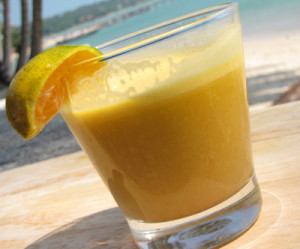 Blend on High for 60 seconds, poor and enjoy within 15 minutes.  Dr. Christopher who is both Dr. Schulze and my primary herbal teacher always emphasized: "Chew your juice".  By at the least swishing it around in your mouth before you gulp it down starts the digestive process, if you can actually do chew a bit of your juice it  will also helps with assimilation and absorption.
Enjoy, Loving your Liver !
Ali